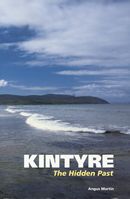 Author:
Angus Martin
Published:
1984, 1999
ISBN:
0859761193
From the back cover:
Angus Martin's Kintyre: The Hidden Past, is essentially a book about the 'ordinary' people of the south-western peninsula of Argyll. It combines thorough and objective scholarship together with the personal voice of its author, who is a native of Kintyre and knows its geography intimately. The greater part of the book is based on original research from a wide range of documentary sources, some of which - notably the nineteenth century registers of the poor - have been until now entirely neglected by social historians, but it also includes much that has been passed on through the oral tradition.
The author traces the evolution of the extraordinarily mixed stock of Kintyre from the Gaelic settlement in the fifth century AD through the subsequent settlements of the Lowlanders and Irish, and explores the nature of these diverse cultural legacies. The darker aspects of social history - epidemic diseases, sanitary and housing conditions and destitution - are also explored and the sinister activities of grave-robbers in nineteenth century Kintyre are substantiated for the first time.
Kintyre: The Hidden Past also includes new information on Irish immigrant families, anglicisation of native surnames and surviving Gaelic elements in the dialect.